| Components Consumed on Launch | Time per Instance | Level Required to Join | Team Size | Enemy Health | Team Health | Enraged Mode |
| --- | --- | --- | --- | --- | --- | --- |
| Not known | 24 Hours | 6 to 35 (?) | 1 to 5 Players | 750 | Unlimited | Does Not Exist |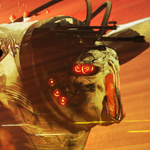 Released on or shortly before 9 March 2010, the Shambler was a one time event which occurs during The Red Sands Mission area when a new player reaches Level 6. The Shambler introduces new players to Xenos and Epic Bosses and is initiated with a popup requesting the player to "Complete" the event. Event lasts 24 hours, and resets after 48 hours.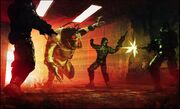 Upon initiating battle, this message appears:
Flickering lights litter the abandoned Red Maw research laboratory your squad has been sent to investigate. The sound of banging and moaning grows louder until suddenly a horrible mutation breaks through a sealed door!
After victory is achieved, this message is displayed:
The Shambler lets ouf a final bellow and crumbles under its own weight. Behind the sealed door, you find a storage room with signs of conflict and the word 'Xeno' scribbled in blood...
Loot and Rewards
Edit
Rewards:
Chance Loot: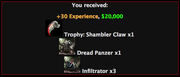 Supporting a Shambler event is closed to higher levels. It is speculated that levels 35 or higher are unable to join the event. The threshhold could be lower than 35.
This Epic battle does not require 5 people participating to obtain full loot.
This Epic is no longer triggered. It may be reintroduced at a future date.