War Metal
Edit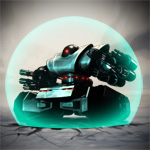 Units are comprised of Commanders, Assault Units and Structures. Units are added to your Force according to the force structure, which is determined by Formation. Units are obtained from Barracks, Missions, War Chips, or Collection. Some Units are better for Player versus Player (PvP) combat while others are better for Player versus Epic (PVE) combat.
The Quality of a Unit is indicated by color of the unit's name. Ranking of Unit Quality from lowest to best is as follows:
Grey
Green
Blue
Purple
Orange
For Tyrant Units (which are in the form of cards), see Action Cards, Assault Cards, Commander Cards, or Structure Cards.
Ad blocker interference detected!
Wikia is a free-to-use site that makes money from advertising. We have a modified experience for viewers using ad blockers

Wikia is not accessible if you've made further modifications. Remove the custom ad blocker rule(s) and the page will load as expected.