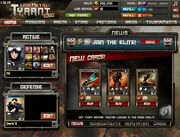 This is the main page of Tyrant. You can customize your
decks
, view your
cards
, look at your achievements, and see your friends. Also, under the three monthly Promotional cards are links to News (latest promos),
Achievements
,
Reputation
, and Cards, which allows you to see what you have gained in certain areas of the game.
Alliance Income
Edit
Alliance Income is the daily gold you receive for logging into the game. The amount is 100

plus an additional 100

for each of your first 15 Tyrant Friends
(Alliance Members)
.
Alliance income is currently only available on the Facebook platform.
Daily Chance
Edit
Deck Management
Edit
This view is automatically opened when the game loads.
When opened, three Promotional cards are displayed for purchase on this page. New cards are added about once a month and previous cards are locked away in the Elite Vault.
Currently displayed cards (which cost 20
) have been known to also appear within the Elite Vault at a cost of 25
.
Achievements
Edit
Reputation
Edit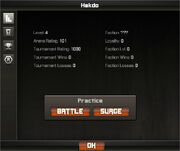 This view, when accessed, displays four aspects of the player:
Basic information. This is the location where you can challenge said player in an Arena battle, standard you-go-first battle or surge.
Card collection, sorted by the Sets the individual cards belong to. This is the location where you can see which cards said player has at least one of and which cards are missing from said player's Collection.
Achievements (and their state of completion).
Level of with the various inherent factions within the game.
Alliance Income (Facebook only) and Daily Chance were added in or prior to version 1.2.15.
The daily chance was modified to include varying amounts of War Bonds and Gold in or prior to version 1.3.50.
Ad blocker interference detected!
Wikia is a free-to-use site that makes money from advertising. We have a modified experience for viewers using ad blockers

Wikia is not accessible if you've made further modifications. Remove the custom ad blocker rule(s) and the page will load as expected.