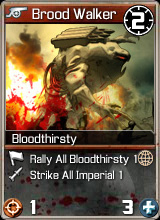 "Er... this isn't the mission I want..."
Maybe this will help:
Enemy Deck
Mission 28
Solution Decks
Imperial Saw Full House
by Rewlf2
This method uses only 400 gold, only 100 arena rating and yields 70% of auto success rate, that is, pretty high if played in manual mode. Using this method will generally throw away siege. This is recommended to be played on manual.
Shadowmaru
Edit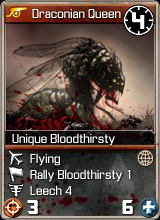 Thankfully the Raider faction has everything you need to make a solution deck.
Being available from the Silver Pack, they shouldn't be too hard to get at 1000

for 2 Uncommons and 4 Commons per pack. It is suggested to attempt the achievement Skill Connoisseur, it rewards you with Chaos Wave. This Action card's innate Strike 2 is extremely helpful in dropping the Queen and the Spout down to a kill-able defense if it hits them (it can also Mimic the Brood Walker (Rally All 1, Strike All 1 - no Faction restriction for Mimiced skills) and Plague Duster (Strike All 2)). At this point in the game the only card that can really go toe to toe with the Queen is Daemon and if you acquired it this early (from Daily Chance), you most likely won't have too much issue with this fight.
Main thing is: destroy those Pools, Jam as hard as you can and survive the Queen. Feel free to use whichever useful rares/uncommons you pulled. And if the Queen hits the table in the first two turns, it's not your fault you lost.
Other good cards for your deck include:
Here is a sample mono-Raider deck for this mission:
MrHappyFace
Edit
Starter Deck: Mission 28


by Mrhappyface 0_0
Ad blocker interference detected!
Wikia is a free-to-use site that makes money from advertising. We have a modified experience for viewers using ad blockers

Wikia is not accessible if you've made further modifications. Remove the custom ad blocker rule(s) and the page will load as expected.