Elite status is purchased with 60
and unlocks special features in the game, including access to the card shop also known as the Elite Vault. It also gives you 120
in return. Currently the Promotional Card for obtaining Elite is the
Mech Walker
.
Four Uncommon cards and four Rare cards are randomly picked from any set other than the Reward Set for sale at the Vault. They cost 10
per Uncommon card, and 25
per Rare card. Cards available are refreshed every three hours.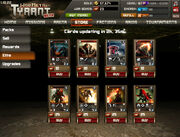 The Mech Walker has been offered as the Promotional Card obtained for unlocking the Elite Vault since its introduction.
Legendary cards and Common cards will not appear in Elite Vault.
Promotional Cards that are available in the News page can be found in the Elite Vault as well. Note that those Promotional Cards of the Rare quality cost 20 when purchased via the News Page, but 25 via the Elite Store.
Ad blocker interference detected!
Wikia is a free-to-use site that makes money from advertising. We have a modified experience for viewers using ad blockers

Wikia is not accessible if you've made further modifications. Remove the custom ad blocker rule(s) and the page will load as expected.