Tremor Wyrm
Talk

5
3,002pages on
this wiki
NOT to be confused with the War Metal Epic Boss with the same name.
War Metal
Edit
Tremor Wyrm
Unique
Armored Xeno
Special Ability
Quake: Chance to deal damage and prevent enemy Assault unit from entering battle.

Cataclysm: Chance to rip the ground apart, dealing earth-shattering damage.

Quality:
Orange
Attack
Defense
55
40
The Tremor Wyrm unit is acquired by collecting the following Tokens:
Cataclysm
Edit
Proc rate: 25%
Damage range: 9-27
Avg dmg/attack: 4.5
Proc rate: 40%
Damage range: 2-6
Avg dmg/attack: 1.6
Average damage/attack: 6.1
Tremor Wyrm is available to Tyrant players through Enclave Packs.
Tyrant: Tremor Wyrm

Set:
Enclave
Quality:
Unique Rare
Faction:
Xeno
Timer:
4 Turns
Attack
Health
3
7

Skills

Armored 2




Strike All 2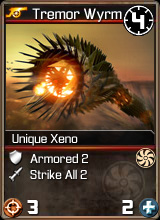 Prior to version 2.3.0, this card had only 2 Health.