Quantum Beacon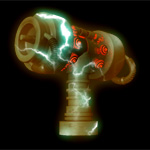 Used for:
Catcaclym, Behemoth, Sentinel
Quantum Beacons can be obtained as Epic Boss loot from Xeno Mothership, Kraken, Titan and Cataclysm.
Quantum Beacons are requires to initiate a Cataclysm, Behemoth and Sentinel.
During Beta Testing and after initial release on July 13, 2010, 4 Quantum Beacons were required to initiate Cataclysm. Modification to 8 Quantum Beacons came shortly after Cataclysms were introduced to the game.
Ad blocker interference detected!
Wikia is a free-to-use site that makes money from advertising. We have a modified experience for viewers using ad blockers

Wikia is not accessible if you've made further modifications. Remove the custom ad blocker rule(s) and the page will load as expected.