Pulse Core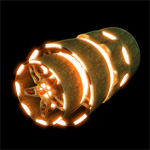 Used for:
Tremor Wyrms, Xeno Motherships
Pulse Cores are acquired as Epic Boss loot from Chimera and are used for initiating certain Epic Events.
15 are required for Tremor Wyrm along with additional components
40 are required for Xeno Mothership along with additional components
Ad blocker interference detected!
Wikia is a free-to-use site that makes money from advertising. We have a modified experience for viewers using ad blockers

Wikia is not accessible if you've made further modifications. Remove the custom ad blocker rule(s) and the page will load as expected.