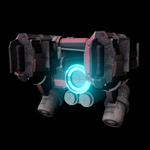 War Metal
Edit
Neutronium Generator is acquired from the Collection for 200 L8 Faction Tokens.
Unique
Increases Stamina recharged by 1 every 5 minutes
Increases Energy recharged by 1 every 5 minutes
Increase Maximum Energy by 50
Increase Maximum Stamina by 50
Neutronium Generator uses the same image as Neocyte Battery
It is also known as Neutrino Generator.
Ad blocker interference detected!
Wikia is a free-to-use site that makes money from advertising. We have a modified experience for viewers using ad blockers

Wikia is not accessible if you've made further modifications. Remove the custom ad blocker rule(s) and the page will load as expected.