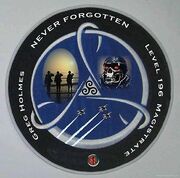 When we started the idea for a Memorial Wall, we had hoped to be able to obtain a bit of information from family and friends about Greg to place here. However, after seeing that there are many who have a lot of kind thoughts for Greg, it may be more appropriate for those who wish to pay their respects in his memory to post a memory about Greg here.
All we ask is that you follow these guidelines:
Sign your messages (four tildes ~ ) or, if you do not have an account, your name.
Please keep all comments here respectful of Greg's memory.
War Metal Wiki Staff will monitor the page to keep it neat, but we will not correct any spelling or grammatical mistakes. We will however remove vandalism (after discussion) if we feel that a comment is disrespectful. Refiner 00:57, May 20, 2011 (UTC)
Links to honor Greg's Memory
Edit
Mark Bromley's music from the greg memorial show to podomatic so people can listen.

Greg's War Metal wall.
From the Greg Holmes Achievement Memorial XMS Wall (with permission)
Edit
I just spent time reading this chat log, i'm an old time war machiner, I came to the game fresh out of the service, I crossed paths with greg one evening in a discussion over honor and loyalty and the team work that the game required back then. I wasn't in any groups, I was playing solo and being killed left and right because it was the way of the world. Noobs got hammered, lol I was bitching about honor and loyalty and greg chimed in, he agreed with alot of what i was thinking the game was and should be about . It's a war game that isn't war at all, back then, the number of deaths one had spoke volumes about thier charactor. Today it means nothing . It's all about ego, Greg was a good guy because he was by nature a good man . In life often its the good that pay the price, If you want to pay tribute to him, let us return to the foundation of the thing, team work, honor, pride, loyality and dignity . A douchebag is a douchebag and if you have them in your alliance, your by proxty protecting douchebags . I have dumped well over 1000 people from my alliance for such reasons, I have had a struggle to get the base 500 lol Greg and I would go to war with 500 honorable war machiners and face 10 million douchebags anytime, any day, why, because that was greg. In his honor and my own, I play a simple game, a hard game but its a douchebagless game : ) ~ Rigs Usn
Ad blocker interference detected!
Wikia is a free-to-use site that makes money from advertising. We have a modified experience for viewers using ad blockers

Wikia is not accessible if you've made further modifications. Remove the custom ad blocker rule(s) and the page will load as expected.