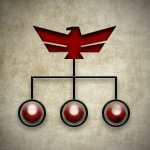 The Force is where you select your Formation and equip your units you want to use in your active force. You may select Formations and Units (Commanders, Assault Units, Structures, and Vindicators) based on specific qualities for Player vs. Epic (PVE) or Player vs. Player (PVP) combat. A full list of all reserve units is displayed at the left and the currently selected Formation at the right, with 40 slots below the Formation for reinforcements.
Multiple Forces
Edit
On 15 May 2010, two additional Force configurations were made available so players may switch between setups quickly. Many players select one of the three force pages for Player vs. Player, another for Player vs. Epic, and the third either for monetary gain or an empty Force. Selecting a Force by clicking the link for it makes it active, and it will remain active until another Force is selected. One more additional Force configuration page was added 17 September 2010. Two additional forces were added in March 2011, for a total of six (6) possible Force formations.
Many opinions exist as to which units are better for PVE or PVP, though the selection is totally a personal preference for each player.
Currently, a War Metal player at a level of at least 33 can use a total of 10 Force formations.
By level 140, a War Metal player can have a total of 16 Force formations
Ad blocker interference detected!
Wikia is a free-to-use site that makes money from advertising. We have a modified experience for viewers using ad blockers

Wikia is not accessible if you've made further modifications. Remove the custom ad blocker rule(s) and the page will load as expected.