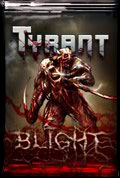 The Blight Pack contains random cards from the
Blight
set.
Purchasing prerequisite: Player level 5 (or above)
Cards: 1 Rare, 2 Uncommon, 3 Common
Each pack has a 13% chance of containing a Legendary card instead of a Rare card.
There are 20 Common cards, 16 Uncommon cards, 10 Rare cards and 4 Legendary cards available to players in Blight Packs. The chance of getting a specific card from a Blight Pack is:
15% for a Common card
12.5% for an Uncommon card
8.7% for a Rare card
3.25% for a Legendary card
Some of these cards are obtained as Rewards for completing certain missions. The Blight cards in a player's collection are displayed under the Blight Icon (

) in the player's Profile -> Card Collection.
The following skills were introduced in Blight:
The Blight expansion was introduced with 50 cards in version 1.7.2.
Ad blocker interference detected!
Wikia is a free-to-use site that makes money from advertising. We have a modified experience for viewers using ad blockers

Wikia is not accessible if you've made further modifications. Remove the custom ad blocker rule(s) and the page will load as expected.