Brave guys is a Tyrant Player Faction on Kongregate.
Description
Edit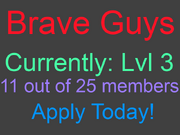 Brave guys are currently level 4 and have 12 out of 30 people. Our highest level member is level 42. Our lowest level member is level 18.
Leader: Thiagom
Requirements
Edit
Recruiting people that are:
Brave
Active (Should be able to do 200 Loyalty a week, At least 2 weeks a month)
Around Level 14-ish or higher
Friendly to be in a faction with
Ad blocker interference detected!
Wikia is a free-to-use site that makes money from advertising. We have a modified experience for viewers using ad blockers

Wikia is not accessible if you've made further modifications. Remove the custom ad blocker rule(s) and the page will load as expected.