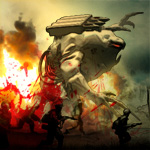 War Metal
Edit
Bloodthirsty units were introduced alongside The Blightlands mission tier. These units are usually most effective for Player vs Player (PvP) battles as they drain health from enemy units in order to restore some health points to your own force.
See Bloodthirsty Cards.
Ad blocker interference detected!
Wikia is a free-to-use site that makes money from advertising. We have a modified experience for viewers using ad blockers

Wikia is not accessible if you've made further modifications. Remove the custom ad blocker rule(s) and the page will load as expected.