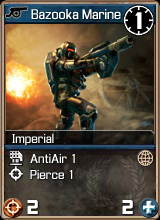 Assault Cards are the offensive units in your Deck. The cards you select for your decks and the order in which you play these cards can have a significant outcome on the battle. Some will have timers which count down the number of turns before they can come into action. Some cards have special effects which come into play during battle and may cause extra damage or healing.
Assault Cards are designated by a cannon icon in the title bar.
Pages in category "Assault Cards"
Media in category "Assault Cards"