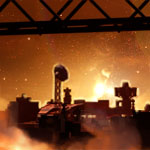 Introduced in June 2011, this area is unlocked after reaching 100% domination in 3 areas in
Artemis Station
.
~ Under Construction ~
Rain of Fire
Edit
The Gungnir has destroyed 80% of the Enclave Assault, but continued aerial bombardment has destroyed most of our defenses. Protect the station!
Requirements
Edit
$26,000,000 - $36,000,000
Experience: +250
Assault: Azure Reaper (5% chance)
Last Stand in Artemis
Edit
Commander, our ground forces have broken. Half our squadrons are isolated an we've lost communication with Artemis command.
Requirements
Edit
Artemis Fallen
Edit
Fleet Paradrops have flooded the northwestern quadrant of Artemis. Walkers are overrunning the city. Do not let them establish a stronghold!
Requirements
Edit
90 Energy
4 Azure Reaper
3 Tactical Infantry
$30,000,000 - $35,000,000
Experience: +280
Formation: Aerial Swarm (8/25/0) (5% chance)
Enclave Entrenched
Edit
Enclave siege-leader Arbiter Velandus has broken through the last of our aerial defenses. His airship is laying down coverfire for the Enclave entrenchment. We must break through!
Requirements
Edit
90 Energy
6 Azure Reaper
6 Tactical Infantry
$32,000,000 - $38,000,000
Experience: +300
Commander: Kaszatah (5% chance)
Arbiter Velandus
Edit
Half of Artemis is occupied by the Enclave, protected by Arbiter Velandus stationed above. Prepare for a massive assault!
Requirements
Edit
150 Energy
8 Azure Reaper
8 Tactical Infantry
Kaszatah
Ad blocker interference detected!
Wikia is a free-to-use site that makes money from advertising. We have a modified experience for viewers using ad blockers

Wikia is not accessible if you've made further modifications. Remove the custom ad blocker rule(s) and the page will load as expected.