War Metal
Edit
Arc Trooper
Infantry
Special Ability
Shock Seige: Chance to deal minor damage against Epics.

Shock Assault: Chance to deal major damage.

Origin:
War Chips
Quality:
Purple
Attack
Defense
46
48
The Arc Trooper has been available for acquisition through War Chips and Infantry Pack. This unit is currently available in the Archive section of the Armory for 25 War Chips.
Shock Assault
Edit
Proc rate: 45%
Damage range: 3-7
Avg dmg/attack: 2.25
Shock Siege
Edit
Proc requirement: Epic Boss
Proc rate: 40%
Damage range: 2-6
Avg dmg/attack: 1.6
Arc Trooper was introduced on or before 5 April 2010.
Arc Trooper is available to Tyrant players through Enclave Packs and Mission 38.
Tyrant: Arc Trooper

Set:
Enclave
Quality:
Rare
Faction:
Imperial
Timer:
1 Turn
Attack
Health
2
5

Skills

Pierce 2




Immobilize
Prior to version 2.3.0, this card didn't have Pierce.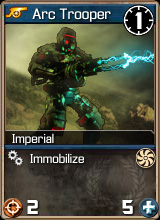 Ad blocker interference detected!
Wikia is a free-to-use site that makes money from advertising. We have a modified experience for viewers using ad blockers

Wikia is not accessible if you've made further modifications. Remove the custom ad blocker rule(s) and the page will load as expected.